Bait Launcher Interchangeable Barrels
Expand Your Existing Cannons

LEARN MORE



Bait Launcher Compressors & Fittings
CO2 Kits and Compressor Parts

LEARN MORE



Air Cannon Ammunition & Projectiles
Ammunition, Projectiles, Shirts & Stuff

LEARN MORE

This air powered fishing bait launcher will launch your frozen bait bullet approximately 150 to 300 yards depending on your Rod/Reel set up and bait size.

The Bait Cannon is ideal for the Motor Home or Caravan, suitable for Rock or Beach casting and cheaper and easier than a Kontiki. This fishing bait launcher - Bait Cannon is easy to use, simply pump up using an electric air compressor or stand up bike tire pump with a gauge (80 lbs TO 120LBS), drop in sinker with Trace and Bait, aim and squeeze the lever.

Compact design easy to store in the boot or caravan and only weighs 6lbs.The Bait Cannon is sold as a kit or pre built. We also have plans for those that like to tinker at home. These bait launchers are of high quality PVC/Stainless and Brass fittings (no rust) and pressure rated to 300 PSI. THIS IS NOT A TOY. Proudly made in USA.
Fishing Bait Launchers sell an array of bait launcher kits and bait launcher plans for creating your own arsenal of affordable fishing bait launchers. Download our easy to follow, step-by-step bait launcher plans and discover how to build the perfect bait launcher in less than an hour.

These bait cannons can be used for all types of shore fishing, boat fishing, salt water fishing, lake fishing, and fishing tournaments. We also sell pre-built fishing bait launchers that work straight out of the box with nothing more than an air source to begin operation right away.

For better accuracy, these bait cannons have the power to reach well over 300 yards.
Our fishing bait launcher plans and bait kits have been used during salt water and fresh water events. Our bait cannons are the most popular choice for those on a tight budget.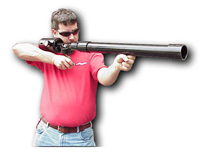 American Air Cannons has been in business online for over eight years and we've designed custom air cannons for numerous events for corporations and govt. agencies. Our potato cannons have been used for sending potatoes hurtling through the air to feed the black bears in ohio to blasting confetti at birthday parties. Many rescue organizations use our air cannons for swift water rescues and the US Coast Guard uses our guns to scare the geese away from their ships without harming them or exposing the crew to the Avian Bird Flu.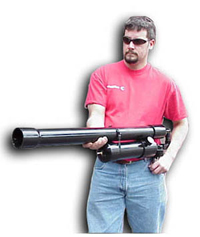 Different Models To Choose From
We offer a wide variety of quality fishing bait launchers with barrels ranging from 1.5", 2", 2.5", and 3". These bait cannons can be used for any event—concerts, racing events, special events, state fairs, sporting events, grand openings, parades, etc.
Built to Last
Our Fishing Bait Launchers are built to last. We use 300 PSI PVC pipe, high quality guages and valves. And we back every cannon we sell with a 100% product performance guarantee. See what our customers are saying about our bait cannons and launchers.
Download your easy to follow, step-by-step air cannon plans today and learn how to build a simple air cannon for yourself.
Download our fishing bait launchers white paper here